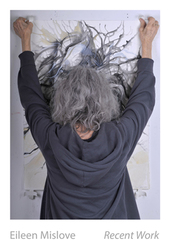 RISE 2018!
July 31 - August 11, 2018
Opening reception: Thursday, August 2nd, 5 - 8pm
M55 Art
530 West 25th Street, New York, NY 10001


Eileen Mislove: Recent Work
VIDEO LINK TO APRIL 2ND, 2015 OPENING RECEPTION
Dumbo Arts Festival Open Studio, 2014
September 26-28, Sat. Sept 27th, 12-9pm and Sun. Sept. 28th, 12-6pm.
GoBrooklyn Art Open Studios
September 8-9, 11-7pm
Eileen's Studio: 55 Washington Street, Studio 252
(between Front and Water Streets) Dumbo, Brooklyn.
Dumbo Arts Festival Open Studio, 2013
September 28-30, Sat. Sept 29th, 12-9pm and Sun. Sept. 30th, 12-6pm.
Catalog from recent solo show at M55 with Karen Gentile
"Recent Work"